The Black Body Survival Guide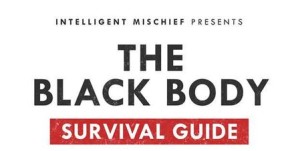 As a response to the current state of race relations in the U.S., Intelligent Mischief has designed a multimedia project called "The Black Body Survival Guide." This will be a compilation of rules and regulations for surviving in the U.S. as the owner of a black body. When the problems of race become absurd it's time to get (Sur)real! We believe that this is one of the best ways to expose Racial Injustice in a Post-Racial America.

This satirical guide is meant to comment on the violence against black people being perpetuated, and raise our consciousness about the drastic nature of racial relations in the United States. Hence, sparking a movement to change the perceptions of black bodies.
  Intelligent Mischief is a Creative Action Design Lab that seeks to aid community organizers to realign their action logic and see creativity as essential to good organizing. Learn more @  
www.intelligentmischief.com