Respect in Reporting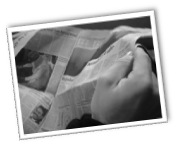 It's hard to open a newspaper or turn on the news today without hearing about violent crime and the tragic consequences. Young people in our communities often become headlines to sell papers and TV ads with little attention to their lives and the families, friends and communities they've left behind. With a thinning workforce of reporters, we know how difficult it can be to cover murder in low-income communities with the compassion, dignity and attention they deserve. But we also know how critical it is to do it right.
When facts are missed or people are misrepresented, families, neighbors and community spend time and energy needed to grieve and move forward instead fighting to preserve the memories of their loved ones and restore their reputations. And when irrelevant information like addresses and hospitals are reported, innocent lives are put at risk. At Press Pass TV, we believe in the unlimited power of media to awaken individuals, create dialogue across race, religious and ethnic lines and empower communities to shape their own destiny. The Respect in Reporting campaign is an opportunity for news outlets to partner with communities to shape a more just and equitable future for all of the neighborhoods that they serve.
In 2011, Press Pass TV worked with families that had lost young people to violence to produce a powerful multimedia exhibit called Anonymous Boston. The exhibit was not only an exploration of loss, power, media, race, poverty and violence, but a space in which the community was able to come together to explore the root causes and potential solutions to violence in our communities. One event, If it Bleeds it Leads brought local media together with community members to learn about guidelines for covering urban violence developed by the families in conjunction with journalists. These guidelines are the basis of the RIP Pledge.